Small country of around 6000 inhabitants to few kilometers from Savona is characterized from a long beach that faces the become ancient suburb a modern bathing place of notable consistence.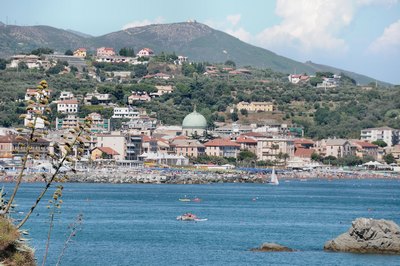 From the first impact with the waterfront the ancient artistic tradition of the production of the ceramics is underlined, already old of four centuries, as two works that go up again to 1554 testify.
The waterfront of the artists is a pleasant walk beside the beach and you/he/she is constituted by a mosaic flooring, in ceramic gres, with great figures policrome realized in 1963 by famous contemporary artists (Sassu, Fountain, Blacksmiths, Jorn, Crippa, etc...) what they frequented the paese. The Liguria of the potters it is almost all to individualize in the poetic shots albissolesi.Ricca of small museums and shows in continuous evolution it represents today, after a period of brief decline, the wish to also occur again himself/herself/themselves in an ancient art in the respect and in the maintenance of the traditions.
Among the sea, the beach, the shores of the Sansobbia, the soft hills and the trees that hide the treasures of Villa Faraggiana and of Villa Gavotti the Baroque sixteenth-century great cą of the Of the Oak and the Roman rests of the ancient Dawn Docilia.
The heirs of the ancient teachers, when they go out of their dens, out of the unchangeable frame of their job, brief confidences are exchanged on the waterfront of Marina.
They listen to the modern sounds, of the ships in I bring and of the motors on the Aurelia, but they look at the people and the things, to grab a figure and an acolore, to pursue images of clouds, become amphoras or vases on I enamel him/it some sky.
There is always a great abundance of blue and white, as in the ancient maioliches of the Guidobono.